James Meredith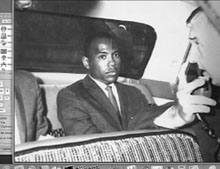 In 1961, the day after John F. Kennedy's Inauguration, James Meredith typed and mailed his application for admission to college to complete a degree in political science. It was a simple, commonplace act except for one thing. James Meredith was black. And he had applied to the University of Mississippi, the State's premier white institution. Most people in Mississippi, black as well as white, thought Meredith was crazy to challenge the segregationist code so directly. Black men had been murdered for less, for simply registering to vote. And for a black man to attend Ole Miss was the supreme heresy against White Supremacy. Mississippi Governor Ross Barnett vowed it would never happen, that "no Negro would ever attend white schools".
The Battle of Ole Miss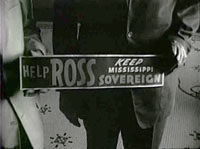 The entrance of James Meredith to the University of Mississippi in 1962 was one of the landmark events of the Civil Rights era. The National Association for the Advancement of Colored People (NAACP) battled in court for a year and a half to force Mississippi to admit Meredith to Ole Miss. The real battle that followed Meredith's arrival on campus saw thirty-six thousand soldiers and National Guardsmen thrown against a massive uprising of angry whites fighting to uphold the Mississippi color line. It was the largest military action on US soil since the Civil War and this event marked the last time a Southern State resisted Federal authority with officially sanctioned violence. Meredith's lawyer, Constance Baker Motley, called it "the last battle of the Civil War". Yet despite his importance, few Americans know anything about James Meredith or what he represented in 1962.
Making the film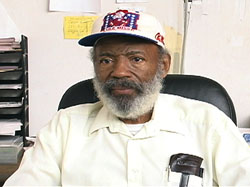 Kent Moorhead has been working on this subject since 2002 when he filmed the 45th Meredith Reunion events at Ole Miss and subsequently interviewed James Meredith on three occasions. He has also interviewed several eyewitnesses, and has done extensive research and written a treatment. Moorhead also assembled a team of scholars to assist him. He has received support from the Mississippi Humanities Committee to get to this stage of the project, and is seeking the funding needed to complete the film.
America's Great Untold Civil Rights Story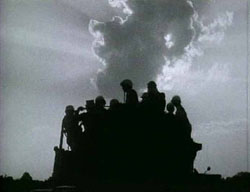 The Meredith events were told in the Blackside Inc. masterpiece, "Eyes on the Prize". But it was just one part of one episode in a long Civil Rights series, and there's a lot more to this story than they had time to tell. Also, the film was made twenty-five years ago and a great deal of new scholarship has emerged on the Meredith story since then.
The Meredith Crisis was the hinge on which the Civil Rights Movement turned. It was the last time a southern state directly challenged the federal government with armed force. Kennedy's armed response ensured that subsequent legislation and court decisions would be followed -- however reluctantly -- by southern white politicians.

Me and My Kind: James Meredith's War
Why this film is important
This is not just a Mississippi issue. Studies by Gary Orfield's Civil Rights Project at Harvard show that segregation has returned to schools across America; it isn't just the South - California, New York and Illinois have the most segregated schooling in the nation. Meredith fought for and won the right – in his own words – "for a citizen to be equal and to be treated as equal". But as important as this victory was, race and education is still a pressing American issue, even as it receives scant attention in the national discourse. Understanding the history is the first step toward understanding the problem. That's why this film is important. The issue of race and education has not magically gone away in the 50 years since James Meredith broke the color line at Ole Miss. This history should be part of the national conversation on race and education, but outside of the academic world, few Americans know who James Meredith is, what he did in 1962.